About
---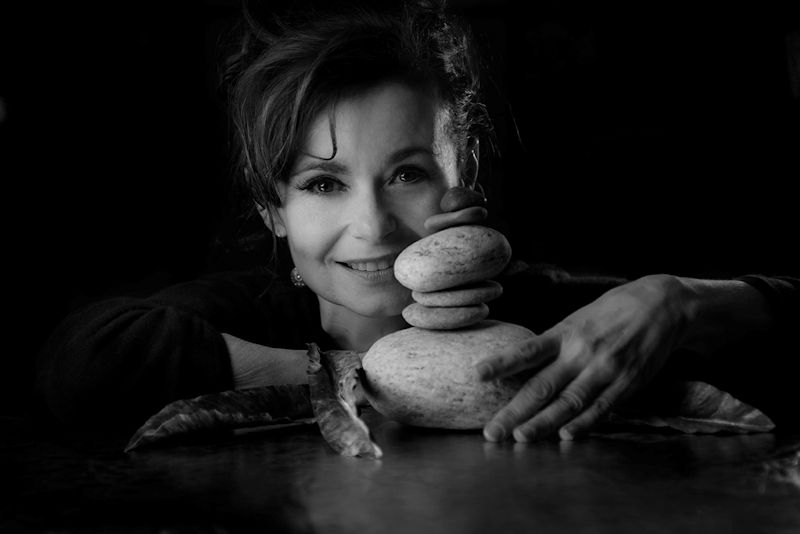 PHILOSOPHY
Life's stories plant seeds in my mind, take shape in my soul, and are born through my sculptures.
SEE ALSO
Personal Statement
Let me tell you a story. I was in a show entitled Gaia's Lament, Earth Cry. A gloomy-sounding, so I did what I often do: I looked for the story at the center. Visiting the hosting gallery, a reclaimed old restaurant, I discovered in the basement a doorway that had been bricked over. Why? Who had done it, when, and why? My mind went to Edgar Allen Poe and his somber stories and I saw a crow, warning "Nevermore", if we don't change our ways. As I climbed back up the winding staircase to the gallery, that crow grew into an entire flock - a murder of crows, ascending from basement to second floor, winding up the stairs, perching on sills, glaring from moldings, swooping from the ceiling. The sculptures that resulted from this vision had the Hartford Courant calling them "the show-stoppers."
Stories are what define my work, drive my vision, inspire my hands, my life. Sculptures bring those stories to life, a symbiotic mixture of ideas and visions from people around me, the environment and materials where I'm working, and then that sudden burst of illumination - the creative spark. These stories cover the spectrum; from the majesty of animals to the vision of seers, from the comic Three Stooges fountainheads to a cat staring down a mouse, from Alice in Wonderland to Paradise Lost. Life stories plant seeds in my mind, take shape in my soul, and are born through my sculptures.
I have overcome many an obstacle, setback, naysayer and disappointment to pursue my art and never gave up. I would not survive if I did not have my art. It has been the constant, the source of strength, my comforting companion to me throughout my life. This is why I am here.
Biography
Over 40 years ago, Serena Bates started her journey of exploration and interpretation of the world around her through art. Beginning probably at the age of 8 or 9, she started with pencil and paper and went on to study traditional figure painting and anatomy at the Lyme Academy College of Fine Arts and the Rhode Island School of Design.
Exploring many mediums including charcoal, pastel, oil and acrylic paint, when discovering clay she had finally found her soul mate and companion, saying, "When you find a material that you can work with tirelessly and not count the time, when your excitement still sings when you leave the studio for the day, you have found home." The artist describes herself as a story teller with an affinity for portraits and animals. "Life's stories plant seeds in my mind, take shape in my soul, and are born through my sculptures."
With clay, bronze and stone, she trusts intuition and a connection to the subject more than static measurements. This approach breathes life into her work and produces the beauty known as "imperfectly perfect."
Bates has exhibited shows and galleries across the United States and Canada. She has won many prestigious awards and honors during her career from the American Artists Professional League, Allied Artists of America, the Salmagundi Club, the Catherine Lorillard Wolfe Club, the Academic Artist Association, Mystic Museum of Art to name only a few. The artist is also a member of the American Society of Marine Artists, Artists for Conservation, Allied Artists of America, American Artists Professional League and Salmagundi Club.
The artist's studio is located at 32 Ann Street, Westerly, RI.
Memberships & Affiliations
Academic Artists Association, Springfield, MA
Allied Artists of America, NY, NY
American Artists Professional League, NY, NY
American Society of Marine Artists, St Louis, MO
Artists for Conservation, Signature Member
Catherine Lorillard Wolfe Art Club, NY, NY
Connecticut Academy of Fine Artists, CT
Copley Society of Art, Boston, MA
Deerfield Valley Art Association, Northfield, MA
Florence Griswold Museum, Old Lyme, CT
Hygienic Art Gallery, New London, CT
Lemon Tree Gallery & Studio, Cape Ann, VA
Lyme Academy College of Fine Arts, Old Lyme, CT
Lyme Art Association, 90 Lyme St., Old Lyme, CT
Marquee Gallery, New London, CT
MASS MoCA, North Adams, MA
National Sculpture Society, NY, NY
Salmagundi Club, NY, NY
Society of Connecticut Sculptors, CT

Collections
Andrea Restaurant, Misquamicut, RI
Children's Museum of Southeastern CT
Don Mann, SEAL Team SIX Commando & NY Times Best Selling Author
Great Lodge at Arctic Watch, Somerset Island, Nunavut
Ledyard Police Department, Ledyard, CT
Mystic Marriott, Groton, CT
Ocean House Resort, Watch Hill, RI
Pequotsepos Nature Center, Mystic, CT
Pfizer Chemical, Groton, CT
Pleasant View Restaurant, Misquamicut, RI
Private Collections throughout the Northeast, England and Ireland
Raiche Realty, Westerly, RI
Renovations to Rentals, Westerly, RI
Salmagundi Club
Westerly Animal Hospital, Westerly, RI
Westerly Animal Shelter, Westerly, RI
Westerly Public Library, Westerly, RI
Zoe & Co. Lingerie, Westerly, RI

Education
LYME ACADEMY COLLEGE OF FINE ARTS
OLD LYME, CT 1985 - 1995
CONCENTRATION IN FIGURE DRAWING, PAINTING, ANATOMY AND SCULPTURE

RHODE ISLAND SCHOOL OF DESIGN
PROVIDENCE, RI 1990 FRAMING

SMOOTH ON INDUSTRIES
EASTON, PA FEB 2002
MOLD MAKING AND RESIN CASTING

KANE SCULPTURE STUDIO & FOUNDRY
PAWTUCKET RI 2005 - 2008
INTERNSHIP FOCUSING ON MOLD MAKING, WAX WORK FOR LOST WAX CASTING AND PATINATION

SOUTH COUNTY ART ASSOCIATION
N. KINGSTOWN RI 2015 - 2017
CONCENTRATION IN CERAMIC SCULPTURE AND ALTERNATIVE FIRING METHODS

Awards
Society of CT Sculptors
Nov 19 - Jan 2, 2022
Lyme Art Association
Old Lyme, CT
Award: "Gemini", 3rd Place Award

113th Annual Thumbbox Exhibition
Nov 23, 2021 - Jan 1, 2022
Salmagundi Club
New York, NY
Award: "Star Gazer", Alphaeus P. Cole Memorial Award

93rd Annual Grand National Exhibition of the American Artist Professional League
Nov 8 - Nov 19, 2021
Salmagundi Club
New York, NY
Juror: Peter Trippi, editor-in-chief of Fine Art Connoisseur
Award: "Miss Independence", Barbara Newington Award for Traditional Sculpture

View all Awards
Exhibitions
An Exhibition in Four Acts - Black and White
Mar 6 - Apr 7, 2022
Lyme Art Association
Old Lyme, CT

Spring Into Art
Mar 4 - Apr 15, 2022
Susan Powell Gallery
Madison, CT

The Crossings
Mar 4 - Apr 8, 2022
Hygienic Art Gallery
New London, CT

View all Exhibitions
Teaching
MY STUDIO
GROUP AND PRIVATE LESSONS IN OIL, PASTEL, DRAWING, SCULPTURE AND MOLDMAKING

MYSTIC MARINELIFE AQUARIUM
MYSTIC, CT

MYSTIC MUSEUM OF ART
MYSTIC, CT

HOPE VALLEY ELEMENTARY SCHOOL
HOPE VALLEY, RI